Click Here For 7th Merit List

Click Here For Provisional List For Willing Candidates
বিজ্ঞপ্তি
সংশ্লিষ্ট সকলকে জ্ঞাত করা হচ্ছে যে, বৈধ ছাত্র ছাত্রী ছাড়া কলেজে প্রবেশ করতে পারবেনা। প্রাক্তন ছাত্র ছাত্রী অথবা অভিভাবক ও অভিভাবিকা অনুমতি সাপেক্ষে কলেজে প্রবেশ করতে পারবেন।
আগামী কাল ১৭/৭/১৯ থেকে এই নির্দেশ কঠোর ভাবে বলবৎ হবে। ইচ্ছাকৃত ভাবে নির্দেশ লঙ্ঘন করলে আইনানুগ ব্যবস্থা নেওয়া হবে।
ভারপ্রাপ্ত অধ্যক্ষ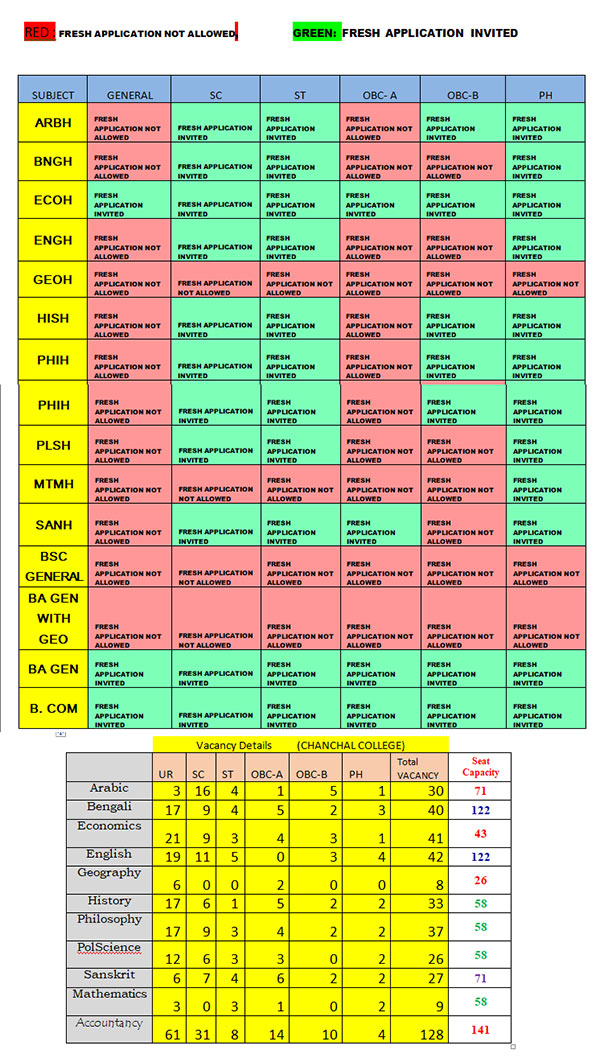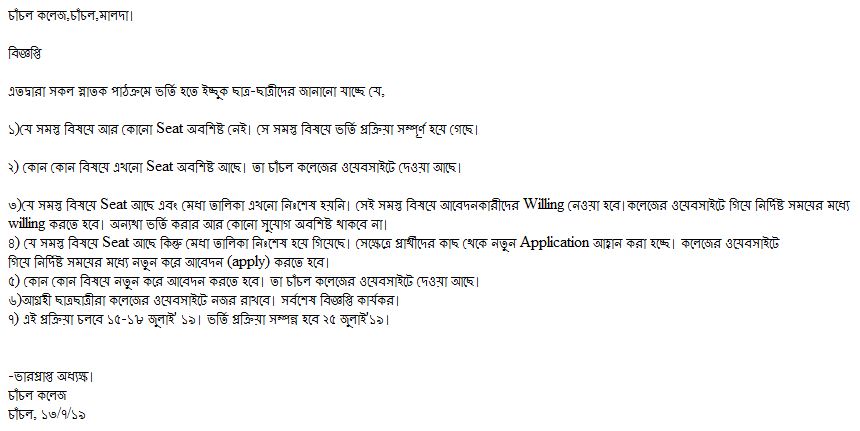 বিজ্ঞপ্তি
যেসব ছাত্র ও ছাত্রী ইচ্ছাকৃত অথবা অনিচ্ছাকৃত ভাবে ভূগোল নির্বাচিত বিষয়  নেওয়ার জন্য স্নাতক কলা বিভাগে (জেনারেল) ভর্তি হতে পারছেনা। তাদের ভূগোল ছাড়া কলা বিভাগে ভর্তি হওয়ার সুযোগ দেওয়া হয়েছে।  এমাসের ১০ তারিখ ভর্তির চুড়ান্ত তারিখ।
ভারপ্রাপ্ত অধ্যক্ষ


Notice For Recruitment Of Guest Teachers.

Click Here For Payment of Part III Form Fill Up

ADMISSION NOTIFICATION 20.06.2019

CBCS syllabus frame 19

Tender Notice For Bonafide and Resourceful Agencies

Tender For Construction of Boundary Wall and modification of Library Toilet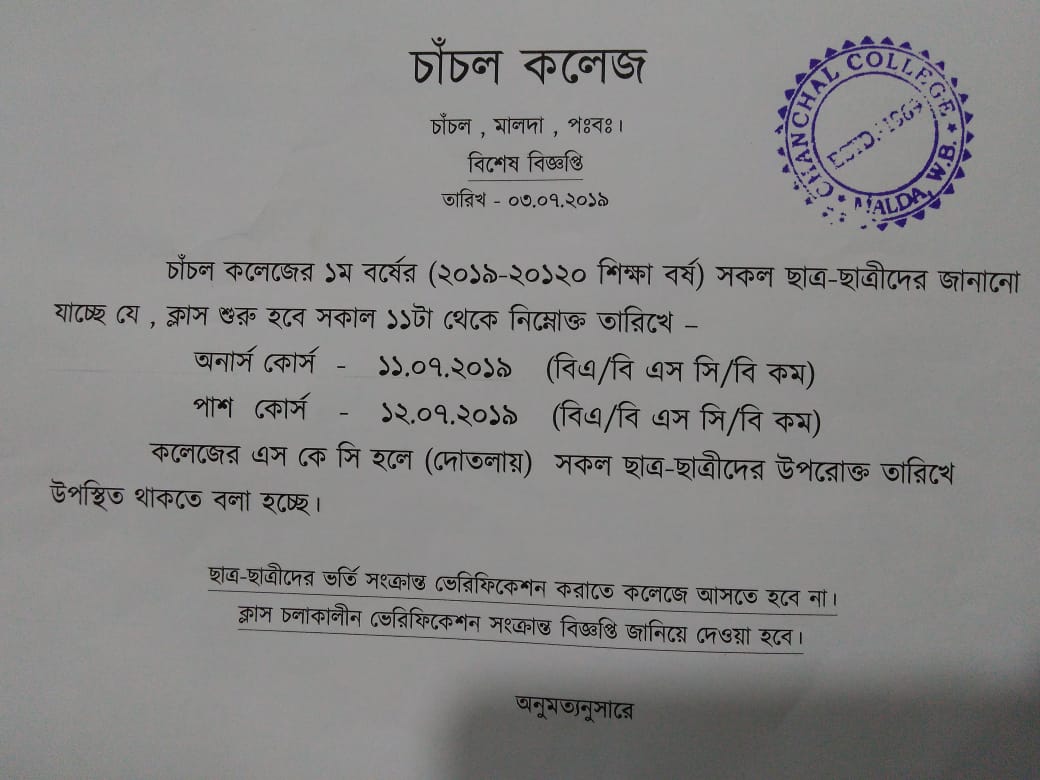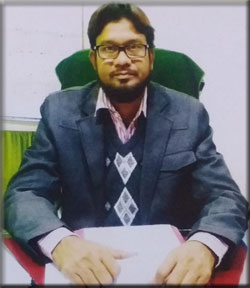 Chanchal College is a premier College in North Malda. It was established on 26th August, 1969 with an aim to imparting higher education to the students of North Malda which is most backward minority concentrated region. It is presently affiliated to the University of Gour Banga. It is housed at the heritage building of Chanchal Palace.
The emblem bears the rising sun over an atomic structure which signifies the aspiration and achievement of mankind in the field of knowledge.
Click Here for Publications of Dr. Nurul Islam